Le Pietre is for sure the most representative historical CLASSIC FAUCETS line from Nicolazzi. The possibility to have 15 di! erent stones to personalize a bathroom makes this line the most successful one.
Colours of the stones matching our surface metal " nishing create real "jewels" for your bathroom. Every client here chooses not only a bathroom component, but a real "art masterpiece".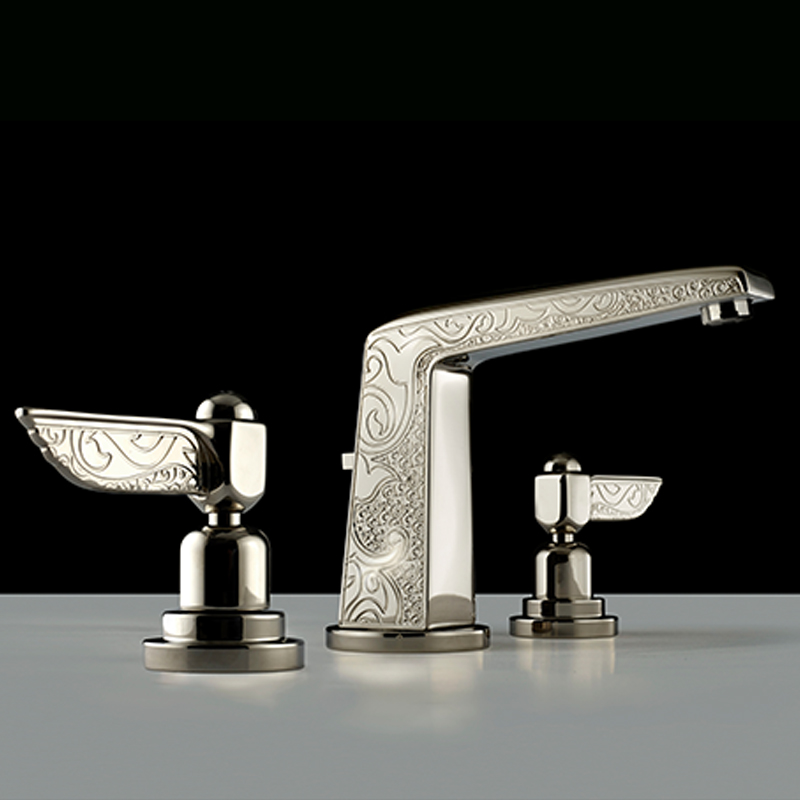 TRADIZIONALE SINGLE LEVER / CINQUANTA
Tradizionale Single Lever – 50 is for sure one of our most complete lines. With eight different washbasin mixers in single lever configuration and, the option to modify components and dimensions through our MADE TO MEASURE department and eight different levers available allowed us to use it in many projects around the world, like the recent HOTEL QASR AL SARAB in Abu Dhabi or the FOUR SEASONS HOTEL in Istanbul.
This line is available in all Nicolazzi finishings.
This collection is literally inspired by the art style of the late nineteenth century, early twentieth century, characterized by linear forms and decorative elements. Created to meet the needs of the market, the presence of real inlaid into the surfaces of this collection enhances any bathroom, both classical and modern. The Liberty line has also a whole collection accessories and some furniture components realized with the same inlays. The Liberty collection is available in all of our exclusive finishes.
Impero is Nicolazzi view of "neoclassic" in sanitary industry. Precious details and rounded shapes will make your bathroom really "rich". A lever and a handle where in both cases are well visible unique "carved nuts". A real artisanal product for those clients who want the authentic Neoclassic style in their bathroom. Proud to offer you Impero in all Nicolazzi finishings.
Cristallo is a real "must have" for us, a historical design that does not stop being appreciated by most of our clients. This "vintage" design with bulky crystals stated many years ago the beginning of our successful cooperation with Swarovsky, as Nicolazzi was with this line the first Company to use crystals on mixers.
Cristallo is of course available in all Nicolazzi colors.
Half Dome Crystal is really the highest expression of "classic tapware with Swarovski". This is the line that better testifies our strong cooperation with the Austrian crystals manufacturer. Three different shapes of crystals are available, including a full black one. Half Dome Crystal is available in all our Nicolazzi finishings.